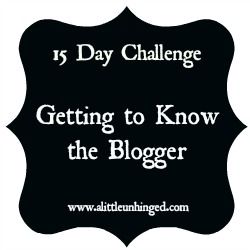 15 Day Blogger Challenge - Getting to Know the Blogger
This challenge is open to any and everyone who wants to get to know each other a little better in the blogosphere. I encourage you all to make this challenge your own. There is no special format to follow or rules on posting. Do your challenge in 1 day by answering all the questions at once or do it in 90 days. Just have fun!
Challenge Questions:
11. What are a couple of your favorite blog tools that you use?
---
Blog Tools?
This is kind of funny, but I have been blogging for so long, 13 years, that I did not realize there are blog tools out there now. Before, there were not, and my ability to learn HTML and CSS so quickly helped me make my blogs the way that I wanted them without any outside assistance. Hmmm....  I am going to have to check some of these blog tools out.